Accommodation Austrian Alps
The most beautiful vacation of your life in Landhaus St. Georg
Pleasant and stylish accommodation in Hotel Landhaus St. Georg****
Hotel Landhaus St. Georg really has his own unique charm. When you visit us and take a deep breath for the first time, when you enjoy the view of the whole surroundings, the Austrian Alps and the hotel in a beautiful country style, you will feel the difference. Austria is somehow special. Fresh green color in summer has a soothing and relaxing effect, and white snow-covered hills in winter invite you to unforgettable skiing moments.
With us you will feel relaxed and as comfortable as possible. You will gain new energy, enjoy the quality of services and in the evening, you will always safely anchor after days full of new experiences in our comfortable rooms. Thanks to our team, you will feel like you are visiting your best friend.
Accommodation in Austrian Alps must have its own high standard. And we set the bar even higher. Our rooms and apartments are cozy and stylishly furnished, the beds are comfortable, and the surroundings are peaceful at night and just created for healthy sleep. So if you want to sleep well, this mission is already accomplished.
You will spend a stylish and pleasant stay in Landhaus St. Georg in Gröbming
You can choose from five levels of rooms in our offer. We provide double rooms without and with a balcony, spacious family suites 2+2 for maximum comfort for the whole family and beautiful spacious apartments with a unique look for the feeling that you have really chosen the best from our offer. If you want to travel with your four-legged friends, we are also equipped for this case and have double rooms without carpets available.
Each room has a pleasant and stylish impression. The combination of wood and the efficient layout of practical parts of the equipment will allow you to quickly settle in and set out for adventures. We also have cots available on request. We are looking forward to your visit.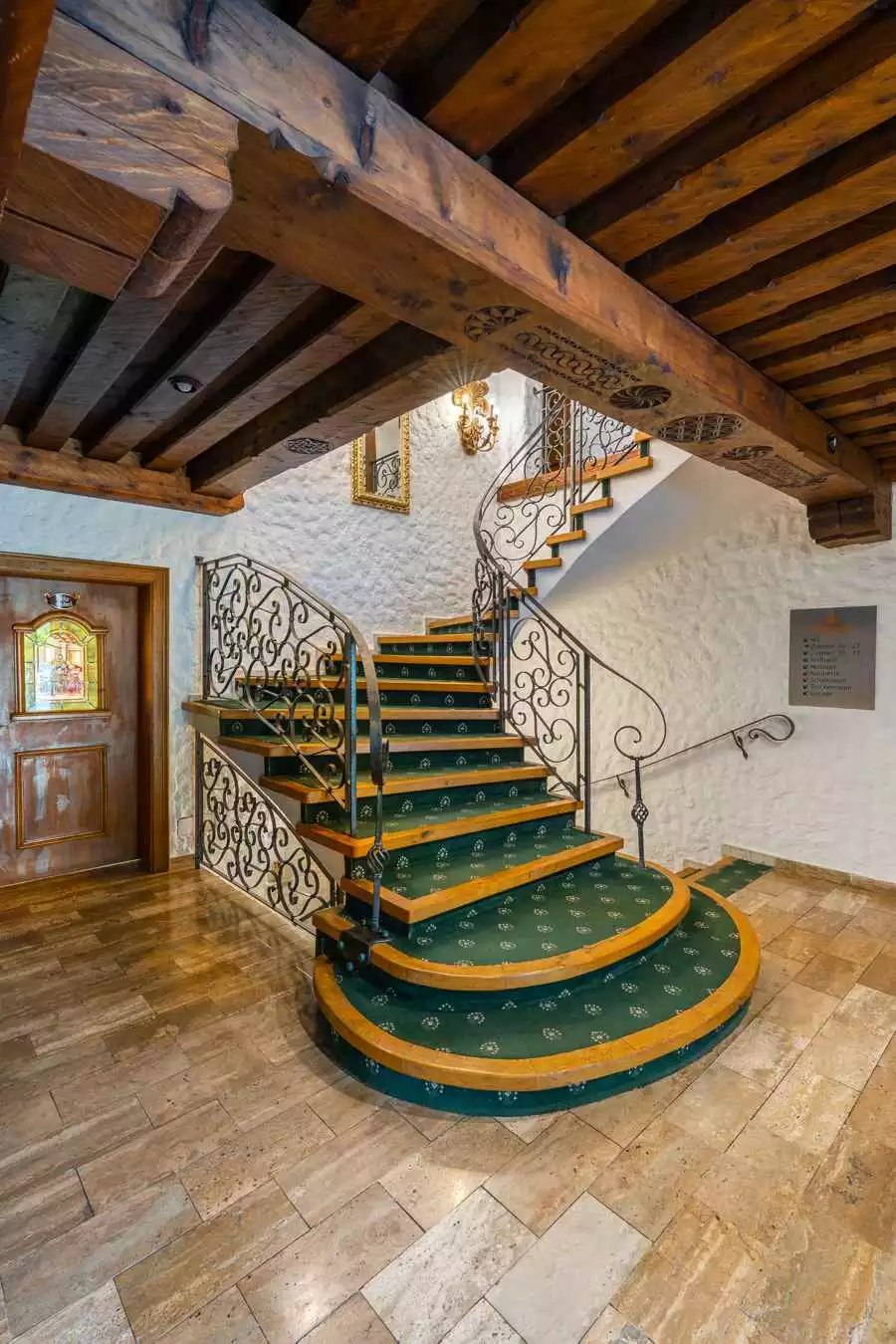 Rooms and apartments Landhaus St. Georg
Each of our rooms is individually and comfortably furnished. Choose the style of accommodation that suits you. Your vacation in Austria can begin according to your wishes. More information on discounts for group accommodation and payments can be found in the price list. For specific questions about accommodation, checking availability and other information, use our contact form and we will contact you right away.
Double room without balcony
Room for 1-2 persons. Our double rooms without a balcony are located on the ground floor.
Room for 1-2 persons. Each of our double rooms in rustic and country style is individually designed. It is possible to add a cot (80×160)
Family room for 2-4 people. Beautiful country family rooms equipped with bright furniture made of solid wood treated with beeswax, with a spacious bedroom connected to the living area with a sofa bed. Balcony or terrace available.
Family suite for 2-4 people. Beautiful country family suites equipped with bright furniture made of solid beeswax treated wood with a spacious bedroom and a separate small living room with a sofa bed. Balcony or terrace available.
Apartment for 2 people. Our stylishly furnished tower apartments, equipped with bright solid wood furniture, belong to our most architecturally beautiful rooms. The spacious bedroom and living area will provide you with maximum comfort and an unforgettable experience. All tower apartments offer a seating area and a balcony with views of the Gröbminger Mountains.
You are interested in making a reservation or checking availability? Fill out our contact form. Enter as much information as possible and your requirements to obtain an optimal price offer.